Even though my sister in law ran into me on a motorbike on one of my trips and gave me lasting reminders of the trip on my legs, I still have happy memories of being on Malapascua Island.

I have been to Malapascua Island 4 times. The first was in December 2003 and the last was in December 2010.
Before you can make the final journey by banca boat to Malapascua, you have to get to Maya on the northern tip of the island of Cebu.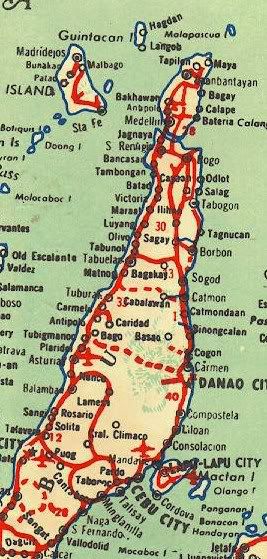 Map of northern Cebu Island, courtesy of Wagner High School
There are several ways to get to Maya:
You can get there by bus from the North Bus terminal in Cebu City for about P150 per person. At the bus terminal there are plenty of touts to direct you to the correct bus. Busses leave for Maya about every hour in the daytime and the bus takes between 4 and 5 hours, depending on how many times they have to stop for passengers. They also have a stop half way so that you can use the CR (bathroom) and buy snacks. When going back to Cebu City. Busses leave Maya about every hour or when they are full. Travel time warning- My longest trip coming back was just over 6 hours and some one else told me they took 7 hours
There are V Hires but I don't think they go all the way to Maya. I think the closest V Hire terminal to Maya is Daanbantayan. From Daanbantayan, you can catch a jeepney to Maya for about P20. In Cebu City there is a Vhire terminal at SM Mall. A V hire is a van that in a western country might carry 9 passengers but in the Philippines carries up to 15 passengers.
You can also hire a taxi. I did this on my trip in December 2005 and the taxi cost P1,500. Coming back in Deecember 2010, I arrange a taxi to meet me. It was a special deal for me because it was my former driver. Negotiate with a taxi but don't pay more than P3000. There are no taxis in or near Maya. If you want to go home again by taxi, make arrangements for the taxi to come back at at a certain time on a certain day or keep the taxi details and contact them later to let them know when you want to be picked up.
At Maya, there is a primitive boat terminal without a jetty or pier. There used to be a two tier pricing structure. Locals paid less. Now everyone pays the same. As at Decemeber 2010, it is P50. Buy your ticket at the booth and do not get ripped off by touts. The banca's leave about every hour for Malapascua. Coming back, they also leave about every hour from Malapascua to Maya. You can also pay extra for a private Banca boat ride back to Maya. It will depend on your negotiation skills but expect P1500 to P2000 for a private banca.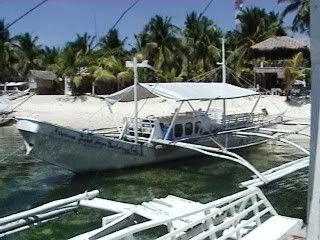 Banca Boat
At low tide, the banca boats can't dock at Maya and you have to ride out to a banca boat on a dinghy or other small boat. You have to be fit for this trip or be prepared to be carried. When I was on the dinghy, I asked how I was to get onto the banca and the boatman said "jump". The dinghy's cost about P5 per head. At high tide there is no need for the dinghy's and you just scrabble over the rocks to the banca boat.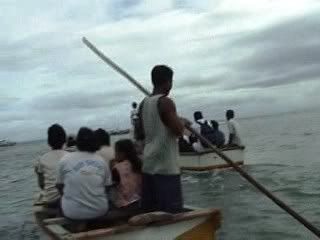 Dinghy ride to the banca boat
You can see a Malapascua map here.
The bancas all go to what is marked as Bounty Beach on the above map. When the banca arrives on the island, you have to walk the plank to get off, so I don't recommend wearing expensive shoes or clothes in case you end up in the water.
There used to only be electricity from about 6pm to midnight, except on special occasions. Since 2009, they have electricity on the island 24/7.
The only cell phone service you used to be able to access on Malapascua Island is Globe. Not sure if that is still the case.
The island does not have any resources and everything that a foreigner might want comes there by Banca boat.
Much of the accommodation on Malapascua was forced to move because there was a new local ordinance that no accommodation could be less than 40 metres from the water.
My favourite accommodation, White Sands Bungalows was one. They rebuilt all their bungalows and the place is looking very very nice. Check my youtube video here

You can eat at several expensive restaurants (by Philippines standards) but the place I liked best for price and quality was Ging Gings Eatery.
Mango pancakes are P70 and a mushroom and tomato omelette is also on;y P70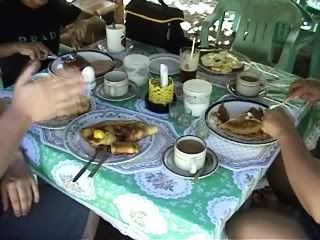 Mango pancakes for breakfast
Ging Ging's is set in a private garden. You dine under cover but in the open and the atmosphere is very pleasant.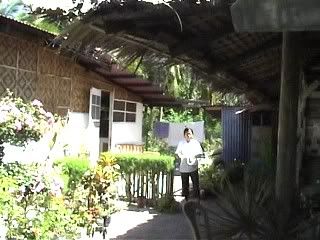 Waitress about to serve our breakfast at Ging Ging's Eatery
Motor scooters can be hired by the hour but you have to use your negotiating skills to get the best price. Ging Ging's charge P200 per hour. As you tour around the island, you can see Filipinos living the same lifestyle thay have probably lived for hundreds of years.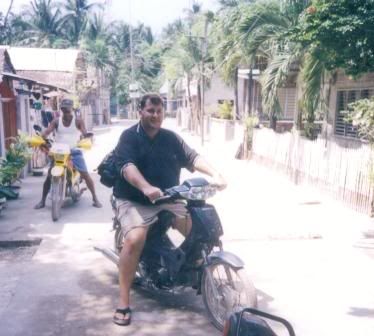 Motor scooter for hire
Banca boats can be hired for the day to go diving or snorkelling. You can also hire them to go touring around the island. There are fixers who will arrange a boat for you but they will add on a fee for their services.
The island is inhabited by Filipinos who were there long before the greedy developers and foreigners so please take care to respect their rights.
If you are interested, I have 3 Malapascua videos on my video page 2
They are:
To Malapascua - It shows the ride on the dinghy to the Banca boat.
Malapascua - It shows White Sands Bungalows, Monte Luna and parts of the island.
Around Malapascua - It shows another view of Monte Luna, Ging Ging's eatery and a banca ride around Malapascua.
ENJOY YOUR TRIP TO MALAPASCUA